Winter 2010: Design Time with Karolyn Spagnolo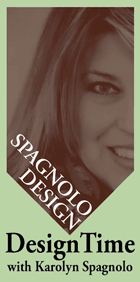 In each new issue of Designing Home Lifestyle's (DHL) magazine, Karolyn will be sharing her unique views and wisdom on all the latest trends in interior design. This is big. It's like having Picasso give you a personal painting lesson. Karolyn's at the top of her field, and no one is more qualified to answer your questions and give you advice on the ever-changing world of interior design.
And we here at Designing Home Lifestyle's magazine couldn't be happier. "We couldn't have been more excited than when Karolyn expressed an interest in writing a feature for us each issue," says DHL Publisher Tom Poljak. "Having someone as renowned and respected as Karolyn giving design advice and guidance is something our readers will really enjoy."
Karolyn's work has been featured in newspapers and magazines across the country as well as on HGTV. She has also won numerous awards for her designs, including the "Housing Excellence Award" through the Builders Association of Metropolitan Pittsburgh (BAMP). She was even voted was the number one designer in the North Hills in 2009.
As the National Color and Design Consultant for PPG Pittsburgh/Porter Paints, Karolyn has travelled North America and beyond educating architects, interior designers, students and homeowners on color, design and how the mixing of both entities can create the perfect space. She has also taken part in the Pittsburgh Home & Garden Show for ten years straight, serving as chair and co-chair for eight of those years. Currently she serves as the public relations chair for the West Chapter of the American Society of Interior Designers (ASID).
Karolyn's talents are diversified and many, but  her true experience and skills are in new and existing residential design. One of the best things about Karolyn is that she's a hands-on designer. What this means is that you can count on her to be involved in every step of the project, from the initial analysis and conceptual design to the completion and installation. It's very common to see Karolyn and her staff in what they call "Spagnolo-wear," a.k.a. black clothing with the ever prominent bronze lettering. Many times her clientele just sit and watch her place new items, learning some of the tricks of the trade.
"I feel that I educate my clients as I'm working within their homes and offices," she says. "I truly love empowering the individual to realize they know what makes them feel good within their personal space. I'll take that thought – their thought – and design around it, always understanding that, ultimately, they are the ones that are living in the space, not me.
Our job as designers is to create a space that reflects who the client is and how they live their lives.
Karolyn can help with both exterior and interior elements of your home,  including, but not limited to, architectural features, perspective drawings, ergonomic space planning, merchandising of all kinds, custom window treatments, greenery/floral applications, Christmas installations, and even staging when the client is looking to sell.
Of course, Karolyn will be the first to tell you that she doesn't do it alone. "You're only as good as the people you surround yourself with," she says. That's why she makes sure she has a strong support team working her with every step of the way to provide her clients with both quality and elegance.
Karolyn understands the importance of incorporating only the finest materials and products in her designs. That's why when she finds a company that matches her high quality standards, she sticks with them.
"I've worked with a lot of people over the years," she says, "and I honestly believe that the support companies with whom I currently work are some of the best in the country. The nice part is that they are found right here in Pittsburgh. and I know that when I use these companies there is, no doubt, the excellence that should surround each and every one of my clients…"