Gift Wrapped: Two Pittsburgh homes celebrate the season inside and out | Housetrends Magazine
Here comes Santa Claus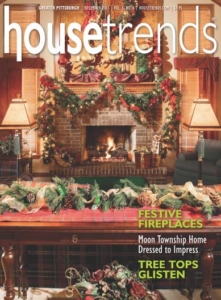 Santa's sleigh, filled with gifts, and characters from The Nutcracker greet family, friends and passersby in front of Kirk and Fran Stephen's Sewickley home. The couple got into the holiday decorating spirit shortly after moving into their French-county home in 2004. They enlisted the expertise of interior designer Karolyn Spagnolo to help them create their winter wonderland. "Karolyn was our interior designer when we first moved in," says Fran. "Since she knew our tastes it was only natural to have her help us decorate our home for the holidays."
Spagnolo suggested creating the custom sleigh, which rests on metal runners and boasts a vinyl seat and lanterns. "The toys and packages are waterproof and anchored down so they don't blow away," she adds.
The front porch is draped with dramatic garland accented with glistening white lights, rich red ribbon, ornaments and strands of beads. "Coming home at night is a treat," Fran says. "Pulling into the driveway and seeing the house lit up is just beautiful…"
Home for the Holidays
Ray and Chris Pronto's Moon township home has a distinct traditional personality and is decorated in rich cranberry and hold tones. they also turned to Spagnolo to help them transform their home for the holidays. "I always recommend playing off the color scheme in a home, and this is what I did in the Pronto's house," Spagnolo says.
Ten-inch cranberry ribbon, beads, berries and ornaments are intertwined with the greenery framing the front entry and hanging on the lamppost. This theme is carried right through the front door and into the foyer. Packages wrapped in an assortment of holiday colors encompass the Santa Claus figure at the base of the staircase, while garland accented with red plaid ribbon runs up the railing. "These decorations perfectly complement the rich woodwork seen in the foyer," Spagnolo says.
Chris says the living room is her favorite place to relax during the holidays. "I love to sit in front of the fireplace and enjoy the Christmas tree."
Spagnolo says homeowners should focus on decorating three key interior areas: the tree, the fireplace mantel and the entry.
These three elements will put you and your guests, in the holiday spirit, she says…