Winter 2010: Building your Dream Home
Karolyn Spagnolo has a puzzle to solve and she is relishing the challenge. The Glenshaw interior designer is trying to figure out a way she can change the color on the walls and install recycled flooring on a model living space she is designing for the upcoming Designer Showcase at the Pittsburgh Home & Garden Show, which begins in early March.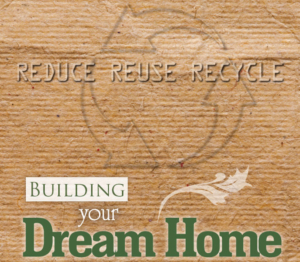 Spagnolo is one of six Pittsburgh-area interior designers, participating in a designer room showcase whose theme this year is "Reduce, Reuse, Recycle". This theme was chosen to reflect the fact that people are putting more money into making their homes more comfortable than ever before, but are still keeping an eye on their bottom line.
"The theme is a continuation of what we have been exploring for a while," says John DeSantis, director of the Home Show, who chose this year's concept for the Designer Showcase. "We're trying to draw the homeowner's attention to green sustainability."
The designers have been given the task of not only using recycled materials in the rooms they are designing, called vignettes, they're also being asked to incorporate various Green Design elements. One such innovation is using zero VOC – volatile organic compound – paint that dries quickly, is odorless, and emits no harmful chemicals. Basically, a person should be able to walk into a room just painted with zero VOC paint and not notice any odor at all, she says.
"This year is definitely all about green design and sustainability," says Spagnolo, who works closely with Construction Junction in the city's East end to find recycled materials for her clients. "It's all everyone talks about. Can we combine function and sustainability?"…
… "It's really not that hard to use recycled materials," says Spagnolo, who also handles marketing for the West Chapter of the American Society of Interior Designers, based in Pittsburgh. "It's really caught on. I've traveled the country and I've seen it all over…"
… As it has done during the previous home homes, the West chapter of ASID will have interior designers available for free 15-minute consultations. Home Show attendees can come in with color swatches or blueprints and ask any of the interior designers at the show a design-related question.
The number one goal of most any homeowner who works with an interior designer is to do it right the first time," says Spagnolo, who has been an interior designer for 13 years. "With these consultations, we tend to get average, everyday people. I'd say eight of 10 of our consultations during the show are for design. The rest involve space planning, or kitchens. I'd say most of the rooms I am asked about at the show involve kitchens or bathrooms. Everyone has a question.
In most cases, ASID's "Ask a Designer" consultation lasts longer than the allotted 15 minutes, says Spagnolo, adding it's a great way to generate new business. In fact, through the previous "Ask a Designer" consultation, Spagnolo began working with a married couple who owns a luxury home in the Cherrington residential development in Moon Township. She ended up helping the homeowners redesign their master suite, game rooms, and family room.
"We all work well together and people coming tot he show get to see an array of workmanship," says Spagnolo…
Click to read the full Winter 2010/Greater Pittsburgh's New Home Magazine article!