Spring 2011 : Design Time with Karolyn Spagnolo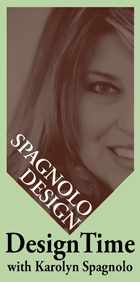 Karolyn Spagnolo is Pittsburgh's premier interior design expert. She is also a PPG National Color & Design Consultant who traveled throughout North America and beyond teaching color and design trends to architects, designers, students, and homeowners. And here at Designing Home Lifestyles, we're happy to help Karolyn share her design expertise with you.
What you should think about when you're redesigning a space, freshening-up a space, or simply trying to live with what you already have? According to Karolyn, painting is still the easiest way to get the biggest "wow" factor for the least amount of money! "It's time to empower yourself and embrace the new decade ahead with a brand new attitude and a fresh new hue," says Karolyn.
Choosing and Loving Color – Six Tips
#1 inspiration: When choosing a color for your space, Karolyn says you need to become inspired by color. Look, perhaps, to an object that you know, love, and gravitate towards. Maybe it's your puppy's color. Then again, maybe it's your favorite piece of art or your favorite fabric. "Most people choose paint colors from the clothes that they wear," says Karolyn. "Look into your closet and see what you're wearing for the best inspiration."
#2 Finding the Match: Next, match those inspirations to paint chips. Of course, looking at a small paint chip will not seem it is when you paint a wall or room. "Your mind's eye needs to see a color in at least a 24″ x 24″ sample to best understand how that particular color looks in any space," says Karolyn.
#3 Paint + Light = Color: Be sure to look at your square sample in the morning, afternoon, and evening to better understand how that color will look in that particular space.
#4 Put things in context: If you're choosing paint for walls, hang the sample vertically. If it's for the ceiling, hang the paint sample horizontally on the ceiling (anything hung upside down automatically appears darker).
#5 White is Out: So let's talk a little more about color. According to Karolyn, white is the first color a person sees upon entering a space. "Your eye captures the lightest part of a room," she says, adding that, if you allow the ceiling to remain white, the first thing a person will see upon entering that room is the ceiling. "The era of the white ceiling is completely over!" she says. "Think about dressing the ceiling and including it in your overall design." Karolyn suggests taking 20 to 30 percent of your wall color up onto the ceiling. "This will eliminate the high contrast that forms going from wall to ceiling," she says. "By using this method, you simply soften the overall look."
#6 "Flow color": Of course, too much of a good color is no longer a good color. So make sure to combine your favorite color with a neutral one. Karolyn says to use the neutral color as your "flow" color within your space. "The flow color is the one that travels through your home for openness and comfort," she says, adding that neutral colors are eco-friendly and scream "comfort." Choosing a main color selection in a warm neutral tone will enhance your space and actually make it appear larger.
Be Dramatic
Next you'll want to think about adding a bit of drama to your space. According to Karolyn, dining rooms, first-floor powder rooms, master suites, and Featured Architectural Designs (FADs) are the best arenas within your home to enhance it with drama. She also says that you should choose the wall that you see first when you talk into a room, if you simply want to color block one specific wall.
"Think about the main wall that you see when you enter a space," shes says, "Painting just that one wall space can set the design for the whole room. Painting your fireplace wall with a bold, dramatic color will monumentally and automatically dominate the room, recessing it and making the overall room look larger."
Define it with Trim
Finally, you'll want to consider your trim work. Architectural trim work can transform and warm your home, and, according to Karolyn, it's an easy, inexpensive fix. "Basically, we are all living in a big box," she says. "Trim work defines your home and every space within it, small or large." Karolyn says that one piece of crown molding can redefine any space in a moment; two or more pieces can elaborate on that definition of space.
"It can take that drab boring space and force it to look important. It cleanly defines your space," says Karolyn. "The color you choose for your trim work should be a separate entity from the other color selections within your home. It's one of the factors that can set the overall tone of your home…"