Interiors take their cues from works of art | Pittsburgh Post-Gazette
An empty room is a blank canvas to a good decorator. This year, the American Society of Interior Designers took that notion a step further, putting together art-inspired rooms for the Pittsburgh Home & Garden Show,  which ends tomorrow at the David. L. Lawrence Convention Center, Downtown.
Works by masters including Claude Monet, Salvador Dali and Michelangelo were the inspiration for the designers display area. The seven rooms on the second floor of the convention center were each done by a different design team or interior decorator.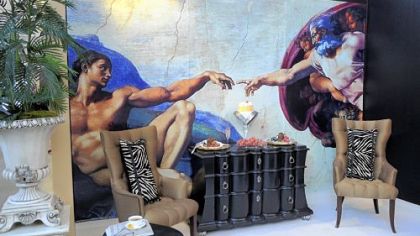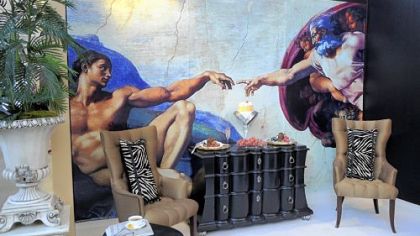 Karolyn Spagnolo of Spagnolo Design took on Michelangelo's lofty "The Creation of Adam" as the inspiration for her master bedroom. She enlarged the image into a wall-sized mural, to great dramatic effect.
"It's actually three panels that Frameworks did for me," she explains. "Murals used to be common in homes, but now not so much. I wanted to sho how you can do it less expensively." Doing things on a budget is a theme she repeats throughout the room. the bedding is from Bed, Bath & Beyond, some of the accessories are from Target, and the wall-mounted electric fireplace is from Home Depot. "The fireplace is great for people who are remodeling. It's so easy to plug in the fireplace and have ambience and heat or just the ambience," she says.
Not everything in the room is inexpensive, however. She added some $1,500 crystal candlesticks from Richard Lawrence Interiors on the nightstand and ceramic dogs at the foot of the bed. Something everybody likes is the wine cooler and coffeemaker. "These are two things more and more clients are asking for in the master bedroom. The mini kitchen in the bedroom is the new thing because they want the same convenience you get in a hotel room."
She calls the room "Versace meets Michelangelo." The idea was the demonstrate how a Renaissance piece could work perfectly well in a more contemporary setting. "Versace did the same thing in taking neoclassical to its limits and thinking out of the box," she notes. With that in mind, Ms. Spagnolo used two chandeliers from Z Gallerie with black drum shades over the night tables instead of the predictable bedside lamp. "It diffuses the light and is perfect for reading and you have the all the space on the top of the nightstand," she observes.
Ms. Spagnolo warns that if you want to do this at home, you should be sure about placement of the bed, because this lighting option doesn't move if you decide to rearrange the furniture. The bed which she designed, does not move. Her father stained it and put the mirrors in the headboard, Kent Welding put all the ironwork in the headboard and Liberty Construction made the bed frame. She has been working as designer for 17 years and does design furniture for her clients…
Click for the full Pittsburgh Post-Gazette article!