Great inspirations: Designers draw on masters' artwork for showcase room vignettes | Pittsburgh Post-Gazette
Can you match my room with this painting?
It's the kind of question that interior designers often hear from clients and it's the premise of the ASID Designer Showcase at this year's Pittsburgh Home and Garden Show.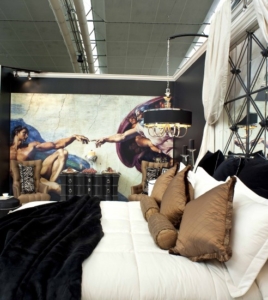 Each year, members of the Pennsylvania West chapter of the American Society of Interior Designers create room vignettes on the second floor of the David L. Lawrence Covention Center. Last year, the rooms depicted those of famous Pittsburghers past and present in honor of the city's 250th anniversary. This time around, the inspiration for each room was a famous work of art…
For Ms. Spagnolo's master bedroom, she chose one of the most famous images from Renaissance art — "The Creation of Adam" from Michaelangelo's Sistine Chapel ceiling. In it, God reaches down from the heavens to touch the fingertip of Adam, shown as a reclining nude figure. What kind of bed befits the creation of mankind? Home show visitors will have to head over to Ms. Spagnolo's room to find out…"
Click to read the full Pittsburgh Post-Gazette article!