Celebrity rooms give insights into how interior designers work | Pittsburgh Post-Gazette
The intimidation factor is one of the biggest obstacles interior designers face when it comes to getting new clients. Many people who would like to use their services feel insecure about how it all works. One of the objectives of the American Society of Interior Designers during the Home & Garden Show at the David L. Lawrence Convention Center is to dispel that fear with a Designer Showcase of fantasy rooms and their "Ask A Designer" program.
"We will be doing free, 15-minute mini-consultations," says Nancy Drew of Drew Designs, noting that home show visitors are encouraged to bring photographs of rooms, fabric swatches and whatever else they think might help with the consultation. ASID has done its "Ask a Designer" program and showcase of fantasy rooms in past years. But this year, the rooms are for clients you'll recognize.
Before they were approached by ASID, Pittsburgh Mayor Luke Ravenstahl and his wife, Erin, had never considered using an interior designer. But Pittsburgh's first family joined local jazz figures Al Dowe and Etta Cox and a host of other well-known personalities as they teamed up with ASID members and collaborated on creating their dream rooms for the show.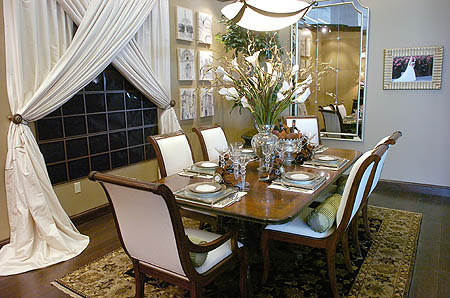 Designer Karolyn Spagnolo of Spagnolo Design worked with the Ravenstahls on a dining room. "They have been wonderful to deal with and the longer we worked together, the easier it became," she says. Ms. Spagnolo, meanwhile, started her collaboration with the Ravenstahls with an interview to find out their basic likes and dislikes in home furnishings. The trio also took a trip to the Richard Lawrence showroom in the Strip District, where they found a style that fit.
"It's a very high-end look, but they are younger so it has a little touch of contemporary," says Ms. Spagnolo. The more updated touches are in the window treatments, the mirror and accessories. The furniture is neo-classical. The buffet and dining room table are by Maitland-Smith. "They both have wonderful inlay work," notes the designer. "I would say the room is new traditional." She finds in general that her younger clients like the blend. "We are in Pittsburgh so they don't want to stay away from the traditional completely, but they want that clean, cut kind of soft urban feel," she says.
Ms. Spagnolo did several designs, then Mrs. Ravenstahl chose the one she liked best. The off-white window treatment mimics the Grecian style so popular in gowns on the red carpet recently, says Ms. Spagnolo. It is set under a 7-foot long wood cornice custom made by Valeriano Contracting Services. The room also features a dome lighting feature from Cardello and a custom color called Mayor Ravenstahl Bronze by Sherwin Williams. The wide-plank wood floors by Exotic Woods are a deep walnut color, covered by a black-bordered Pakastani rug.
Ms. Spagnolo says good communication is the key to interpreting what clients want. "You have to spend time with them to really get to know them," she insists. There were only three actual appointments, but phone conversations and e-mails helped to get it just right. Even the tiniest details were not overlooked.
"Erin and Luke do not like cut crystal (too heavy and formal for their taste) so we went with 14-inch high goblets," Ms. Spagnolo says. On the table, she combined Haviland China in Tambor Bronze (from Contemporary Concept in Allison Park) with mirrored chargers. The setting is anchored by a centerpiece of calla lilies. "Erin loves calla lillies," Ms. Spagnolo explains.
Click for the full Pittsburgh Post-Gazette article!