HGTV Show looks at 'What You Get' in the Pittsburgh area | Trib Live
Lynette Horrell says she was trying to get rid of some "contemporary blandness" in the look of a house she and her husband, Jeff, bought two years ago.
Interior designer Karolyn R. Spagnolo points out her own strategy was trying to add a "wow factor."
The work ended up getting the Horrell home a spot among six area homes being filmed for HGTV's "What You Can Get For Your Money," which shows how much house you can get for your money in different places.
Lynette chuckles and seems a little reluctant about the honor as filming took place throughout the day Friday at the Richland home.
It was just so bland," she says, motioning toward the kitchen. "Karolyn will tell you. Everything was the same color. There was just no life.
The film crew at the home consisted only of producer-writer Paul Baldwin from High Noon Entertainment in Denver and Denver freelance cameraman Steven Barnhisel.
…It was enough to upset lives for a time. Dexter, the 10-year-old yellow Lab, often was banished to the patio to keep the set silent. It was enough to draw a mournful look as he peered through the glass.
Playtime for daughters Taylor, 4, Kaitlyn, 6, and Brienna, 8, was interrupted, or moved to another room.
But filming consisted basically of chatting about the house in various rooms and places. Sometimes, Barnhisel would see a photographic possibility and have Spagnolo, for instance, repeat a thought while she illustrated design elements.
The work at the home didn't involve major redesign so much as "merchandising," says the head of Spagnolo Design in Shaler.
She goes through the kitchen and points out window treatments and granite counter tops as key elements in giving the room some heart.
Baldwin is in the final days of a six-day stay in Pittsburgh shooting homes and footage for the show.
He says homes were nominated in various cities and then chosen by a screening group at the home-and-garden cable network.
He estimates this section will be broadcast in three to four months, but says it's hard to predict. Footage from homes in various cities is put together at various price ranges and fall together as they fit.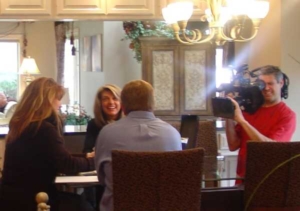 The idea, he says, is to show how far a buck stretches in different places. But he adds he likes to get pictures of the area and show a sense of what life is like.
The Horrell home will be in a $700,000 category while the 1913 Bellevue home of Theresa Gallick will be in a $200,000 bracket. Today, Baldwin and Barnhisel are at the 1910 residence of Tom and Lynda Brletic, of Shaler, which is in a $1.1 million range.
The visit to Pittsburgh also will include looks at smaller homes in the Strip District and the South Side, as well as condos at the Angels Arms on the South Side.
The pieces may not be used together, Baldwin says. All of them become individual elements to be matched with other of that kind.
Jeff Horrell, 45, a mortgage banker, says when they decided to buy a bigger house, which is only five homes away from their prior one, there was one catch.
"I wanted everything done when we moved in," he says.
That was done. Sort of.
But, he admits, "work on a house is never done."
That shows in the basement, where his bar/family room is a stay of the show. It was finished only days ago and is a showplace for horns and trophies of his addition: hunting.
And Lynette, 44, a part-time accountant, points out an addition is planned to the 4,700 square-foot home that will provide a family room and enclosed porch.
Jeff Horrell says they have probably added almost $200,000 to the home in the two years they have been there.
But they seem pleased with the result.
"We don't even have to leave here on weekend," Lynette says during the filming.
Click for the full Trib Live article!